Spirit Week – Wednesday 18th – Friday 20th September
Spirit week is a few days to celebrate our achievements so far this year. We are holding a full school event that will bring all the year groups together and boost school spirit. We will have lots of diverse activities and games to include everyone.
Spirit Day – Thursday 19 September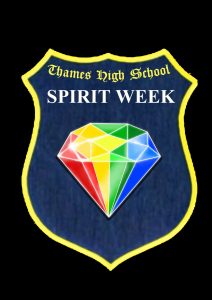 Thursday will be a, full on, fun day to celebrate the Spirit of Thames High. Fun, games and challenges within your House. It doesn't matter if you are Hoult, Adams, Rudman or Dorrington you all belong to Thames High School and will remember whole school events such as this one.  The best part of this day is that students and teachers get to stop sweating the classroom stuff and enjoy being amongst their peers, kaiako and kaitiaki.
Spirit Day is the day that you want to show your house colours, show your house pride, show your house is the best. It helps us all become the "Best School of All".
Things to remember:
Wear house colours
Bring food and drink for the day (or purchase from the canteen)
Whānau/Rōpū roll check at 9.00am
House meetings at 9.10am
Spirit Day starts at 9.20am
Interval and Lunch will be at the usual times.
6 Challenges against other Houses
Wednesday will see the start of Spirit Week with Interval and Lunchtime activities, including musical chairs, eating competition, open mic and lip sync competitions.  Friday is a view into your future with a mufti day (gold coin) supporting 'Canteen'. The dress up theme is "My Dream Job".