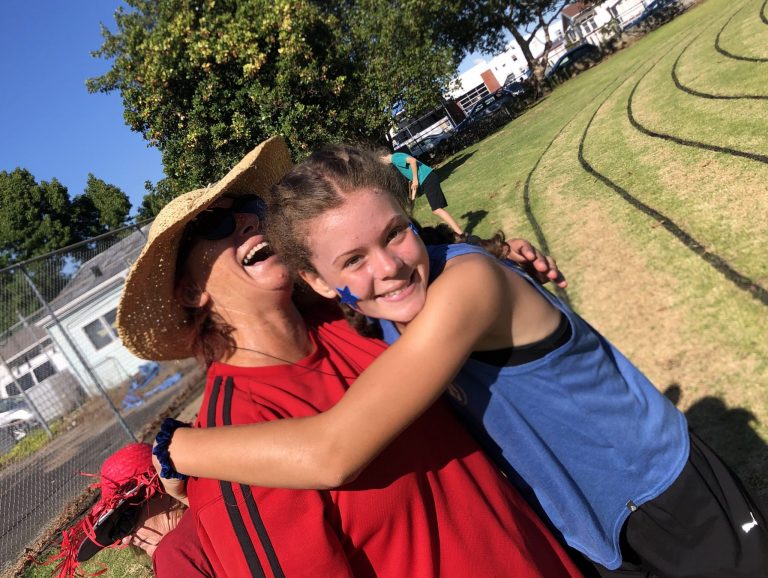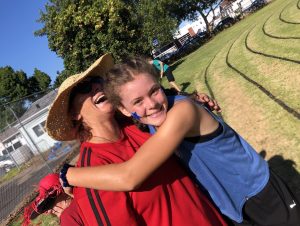 The annual whole school Athletics was held last week. The school was coloured with Red, Blue, Green and Yellow to represent the Houses the students are proud to be part of. All age groups rotated through track, field and fun events. Everyone had loads of fun and participated at the level they chose.
For two students, smashing records was the aim of the day.
Katherine Bayer (year 9) has been training hard with Lynley Russek (coach) at all track and field events, but her sights were set on jumping well in Long Jump and Triple Jump.  By morning tea she had gained 3 records but had to wait all day for her Long Jump record which she really wanted to do well in as her coach, Lynley, was the holder of that record from 1976.  Awesome work Katherine.
Kanye Rapana (year 10) gained the 200m Junior Boys record that had been held since 1973 by R McLean. His 100m sprint final was the fastest of the day but .02 sec over the current record. So close. Congratulations Kanye.
Further events are completed this Wednesday so there could still be more records falling in 2020.  Discus, Javelin, High Jump (finals), 3000m and 1500m take place for those students who wish to compete in these events.
Thames Valley Athletics will see a large team from Thames High School competing in all events in Waihi on Wednesday 4 March.
New Records
Event
New Holder
Distance/time
Previous Holder
Previous
Distance/time
Previous Year

100m (JG)

Katherine Bayer
13.16 sec

M Abraham

13.2 sec 

1961

200m (JG)

Katherine Bayer
27.34 sec

P McFadden

28.9 sec

1976

Triple Jump (JG)

Katherine Bayer
9.32 m

P Leonard

8.78 m

2008

Long Jump (JG)

Katherine Bayer
4.89 m

L Russek

4.85 m

1976

200m (JB)

Kanye Rapana

25.13 m

R McLean

25.4 sec

1973