We are excited to announce the beginnings of 24-7 Youthwork at Thames High School. 24-7 Youthwork is presence based youth work that looks different from school to school. What we do will be shaped by the school, it's staff and our students.
The five outcomes from this initiative will be – supporting students – building relationships – developing leadership – cultivating school spirit – integration into out of school activities (creating connection with the wider community). At the heart of it, we seek to support the school and students in creating a space of belonging and connection.
Our youth workers:
Beth Plester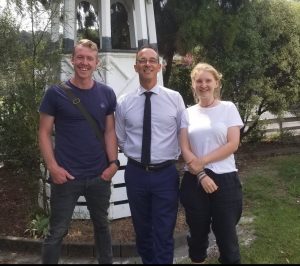 Beth is 28 years old, passionate about supporting our Rangatahi and will be working in the school regularly as a 24-7 Youth Worker. She holds certificates in youth work, outdoor instructing and youth ministry. Beth writes in her own words; "I am passionate about bringing hope into the lives of young people. Having worked with youth for just over a decade, it has given me the space to work with a wide range of people from different backgrounds and cultures. This has enabled me to understand that every young person has their own story and needs to feel loved and safe."
Michael Wilkes
Michael has been living in the area for the last 8 years and calls Thames home. He will be known by many students from his work in the Primary Schools offering a wellbeing adventure therapy based programme called Res-Kids. Michael will be supporting establishing 24-7 YW and will be a regular presence in the school. Michael loves life, and believes the best bits should be shared. His heart is to see young people thrive, to help build a foundation in which our Rangatahi can launch into a bright and stunning future.